I WILL CUT TO THE MOST EXCITING NEWS BEFORE I TELL YOU THE BORING PARTS: I HAVE TWO SCENES SITTING NEXT TO AMANDA SEYFRIED [KAREN FROM MEAN GIRLS, THAT ONE MAMMA MIA CHICK ETC] AND I HAD A FUCKING ONE-ONE CONVERSATION WITH HER. SEVERAL. THIS IS DUE TO US SITTING SIDE BY SIDE IN A CRAMPED AUDITORIUM FOR TWO HOURS. HOLY SHIT.
Recap: I got a role as a background character in "Dear John," starring Channing Tatum and Amanda Seyfried.
Amanda was the only star to shoot today.
So, I woke up at 5am for a 6am call. Cameron, my friend, was there first, and this pretty much made my day infinitely better because it cut out the awkward-lonely-friendmaking parts that could have made it suck.
OK, I shot 13 scenes:
1: Walking across the courtyard. Not too important.
2. I just recieved a phone call informing me of 9/11. Concern! Shock! Cameron comforts me. I tell him Barry Manilow has died. We attempt to take this seriously. I was in this shot a good bit!
3. Sitting on the Cistern, talking. My back is to the camera. I was like a foot away from Amanda, so I was definitely in this shot.
4. Walking in front of the Cistern, some kind of montage shot.
5. Walking across the path repeatedly. Crossed Amanda; definitely in the shot,
6. Walking up and down the stairs. Lol.
7. Stairs, again.
8. Walking across the street repeatedly.
9. Street, again.
10. Walking to class? May be in the end of shot; they probably got Cameron more.
11. Standing in the road talking. Eh.
OK, this is the interesting part:
12. Sitting next to Seyfried. I know for a fact my shoulder is in this entire scene. Also, my hair.
13. Same, but different angle. I was there though!!
OK, that's the list. Now!
I was sitting next to this relatively famous, extremely pretty person a long goddamn time (one thing though: she's TINY. 5'1, and like 80 pounds. Her legs are like little sticks. And she has a shitload of hair, like whoa. I couldn't tell if it was extensions. Also, they had to put her on like 3 cushions to look tall next to me, and I'm 4'10!!).
During this time, I decided that I'd probably never manage it again. So I turned to her and told her that I was a big fan of her movies and asked her to sign the notebook I was using as a prop. She did, but she seemed way more interested in the face I had doodled, lol. She said she really liked it! So we started talking about art (apparently she sucks at it, and wishes she was better) music (she thinks opera is boring ((this in regard to doodles I showed her from my music appreciation class)), and loves Willy Mason, and is a good friend of his) and chocolate (we discussed the virtues of white chocolate crepes, white and milk chocolate fondues, chocolate cookies, and how fucking amazing Nutella is). Later, she made a joke about just wanting a big block of cheddar cheese, so I drew a little swiss cheese block and gave it to her. Yeah, it's really lulzy, whatever. She got really happy and KEPT IT. Then we had another conversation about Charleston (she loves the East Coast; she hates L.A, it's a horrible city; she hates the Pacific Ocean, it's too wide (???)), Mamma Mia (she found all the older actors really intimidating, thought Colin Firth was really hot [but intimidating] and was terrified whenever she was onscreen with Meryl Streep) and how she was in the music business before acting but she prefers acting as a career.
Yeah, that's basically a recap of our entire conversation. Why is this the highlight of my day? Because I am a fickle human, bowing to small gods. Honestly: the Greeks had their pantheon, and we substituted it with Hollywood.
Anyway, this is her signature, and the shitty doodle she supposedly liked so much that she wrote right on it [lulz]: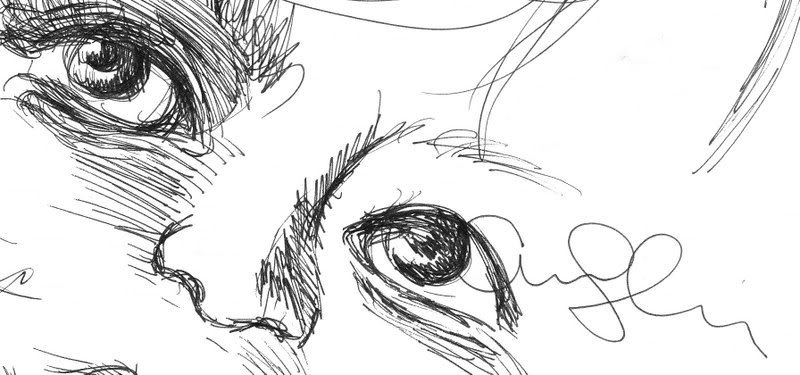 and the cheese I gave her basically looked exactly like this, because I drew a pageful of cheese (we were supposed to be "taking notes in class," so I just doodled):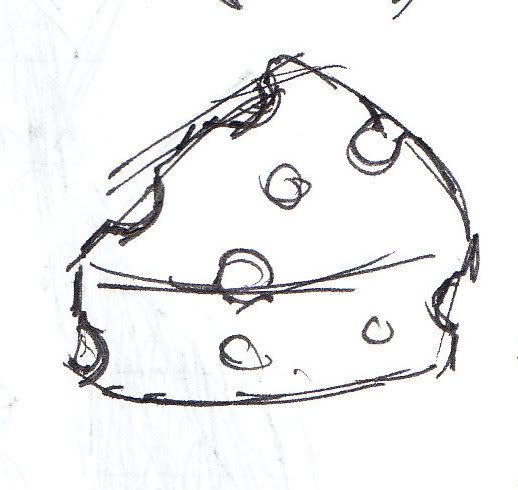 It was a 14 hour workday on minimum wage, but I think it was worth it :(
OH OH and the assistant director was taking test shots of every scene and randomly told me I looked really good in mine! Score! Here I come, Hollywood... or not :(
Anyway, Dear John looks like a terrible movie. It's one of those romantic dramas.
PLEASE go see it. I'm the short brown girl with purple hair and a black shirt! I'm the only purple haired person on set! Look out for me!!
OHMIGODOHMIGODOHMIGOD. I CANNOT BEGIN TO EXPLAIN JUST HOW EXCITING THIS DAY HAS BEEN.